CULTNAKED is a seasonless slow fashion label that unites femininity and comfort designed for real life. We do usual things in an unusual way.
Our mission is embracing your confidence and sexuality in every step of the way. CULTNAKED aims for inspiring and empowering women around the globe as we proclaim female body as a cult. Important part of our ideology is sustainable creating. We don't overproduce our garments and don't keep seasonal stock.
Our iconic Skort
First item we've ever created was a pink DANCING ON A TABLE skort made out of fabulous italian satin is a go-to night out piece suitable for any dancing occasion. The mini won't pull up and you're free to do whatever you like (limited to your physical human abilities. CULTNAKED doesn't take responsibility for harming yourself in our apparel. Please, be wise)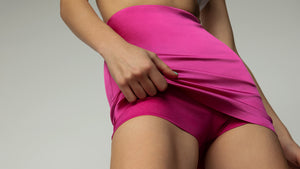 Sustainable approach
Sustainability & working conditions to minimize over-production, all of cultanked's garments are produced on demand. An opposite to industrial process, our highly skilled craftswomen are like a big family! We are waiting for your order and prepare it specially for you. This ensures personalized approach, quality control at every stage, and no overproduction.
We do our best to dispatch your order the same day, but depending on the demand, please expect your fabulous pieces to be sewed and ready to fly out within 1-3 business days.
Our textiles are of an extremely fine quality: we like the luxurious look and feel, so they come straight from Italy to our office.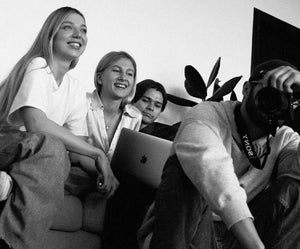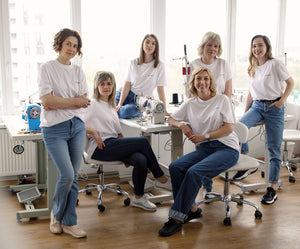 Team of professionals
Our team is young, driven, hard-working and keen to details. We want to feel good about the work we do each day & reflect our values: quality being combined with comfort & femininity. Founded by a woman, for women.
▲